BRITISH LAND SHIP LEVIATHAN CLASS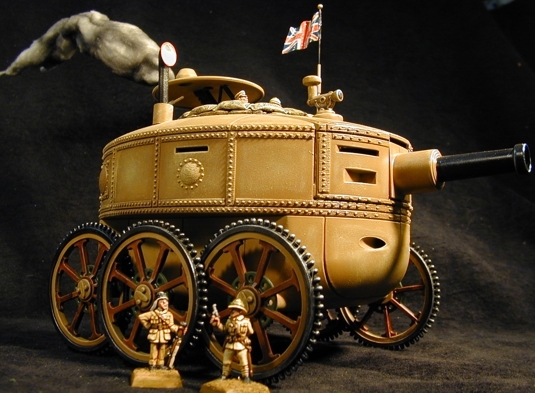 This is the largest British Tank in the British land force. It can hold its crew of 6 and 22 troops! Carries a Large cannon and  quite impressive on the battlefield.
This vehicle is one of the biggest I had done and really was fun! It started as a "Wild Wild West" toy that did not require much modification to look good in GASLIGHT or Victorian Science fiction. As usual I did some modifications to make it better. The original twin Smokestacks and ventilator looked kind of cheesy so I scratched out some new ones.
The paint job is a combination of airbrush and traditional figure painting.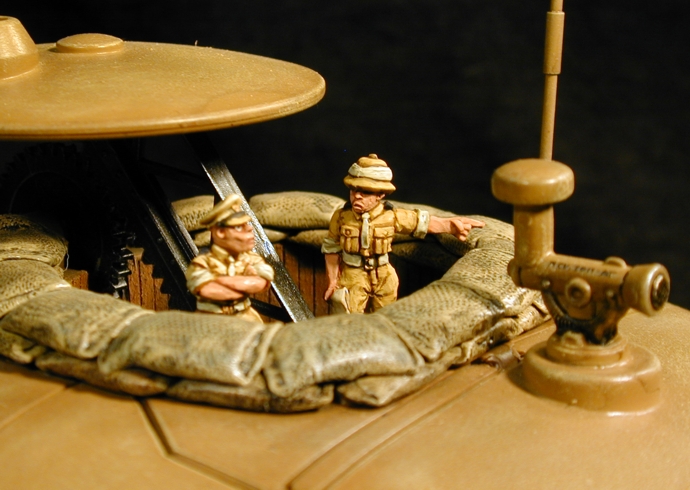 Captain "Lawrence" and Colonel Sam Brown inspect the Queens new craft!
I did most of my heavy conversion on the top in the "command wheelhouse" I made a geared sliding beam support for the giant hatch cover. While it does not really "move" you get the idea and feeling that it could be lowered in combat. I also built the entire inside with a control panel and gauges. Taking a page from "real" life I looked at the model and tried to imagine it in combat, what would work what would not and how would the troops "field modify" it to work better in combat. I saw that any troops or crew operating with the hatch up would be very prone to taking hit from bullets and shrapnel ricocheting off the hulls armor. This led to the sand bag shield that surrounds the wheelhouse. I was quite happy with the lived in look it gave the vehicle.
It starts "stock" looking like this.