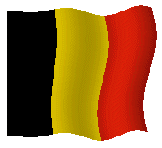 Campaigning in and through the Dark Continent and Colonial gaming in general has always invoked in me the picture of powerful Colonial gunboats plying the waterways of a hostile country enforcing their monarchs will with brute force.  To this end I have long thought about a gunboat to be used by my powers. I figured that start with something not too big and not too small and since I had not done any ships before; not too complicated.
After looking around on the Web and in some of my reference books I found a picture of the ship used by the Khartoum relief of force.  It is also a ship modeled on Major Tremordens classic Colonial web site. The ship that I have loosely modeled mine after was called the Safieh. It was a medium size boat with side paddles, which really gave it a period feel.  I started to gather materials and ideas for construction on the boat.  This project was going to be tougher than some of the others since it would be built by scratch from the keel up.  After a trip to the local hobby shop to stock up on some styrene plastic in various sizes I built the keel.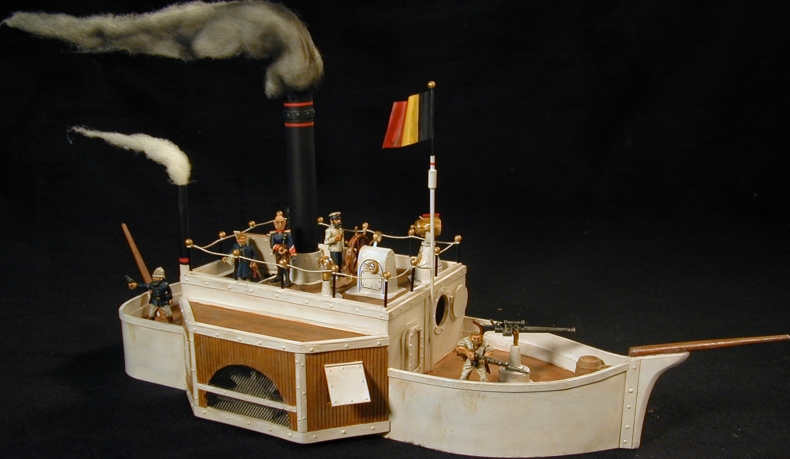 This is where the story takes a sad turn.  After I laid the keel and started to build the deck and other major components I took pictures of all the major steps and planned to do a complete article on the building of the gunboat.  Everything went along fine until about a week before completion.  I was in the process of downloading all the pictures when one of those mysterious computer glitches trashed the disk full of pictures.  All that remained were a couple of early keel pictures and those of the near completed project.  So without the pictures to go with the article I have decided to just let the pictures speak for themselves.
A couple of comments and that's it.  I will tell you that there were points its construction that it sat on the workbench untouched for weeks while I contemplated its design or some bit of construction.  It wasn't easy, but somehow I feel that came out pretty well.
As I thought about the initial project and the look of the ship I decided that I really wanted something that looked like a cross between periods.  I felt that in the Gaslight world and in reality the real Colonial world ships would contain many old designs as well as recently developed designs, something that showed a metamorphosis.  So with that in mind I designed the hull as if it started to be a small coastal sailing vessel (with a metal hull) but the designers converted it into a steam-powered gunboat. Since it would be almost exclusively traveling on the rivers sails would not be necessary.  Some of the rigging installed early on for those sails remains in the final design, the bowsprit and some other items were left.
Since this ship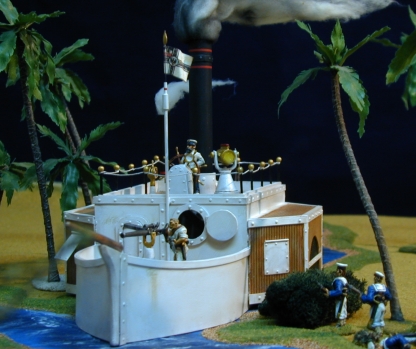 would be used for gaming I also made it as functional as possible and still look real.  There is ample deck space, forward, aft, top side, and by pulling up on the smokestack you will reveal a large interior.  Two ship hatchways on either end or a stairway and hatch leading up to the top deck serve the interior.  All the controls, ships wheel, and ships telegraph (to the engine room) were located on the top deck.  This is for aesthetic reasons as well as the practical application of navigating rivers.  On many riverboats the ship's controls were located far forward and high up so that the helmsman and Captain had the best view to read the river by.  Rivers were inherently dangerous with sandbars, hidden logs and rocks, along with dangerous currents.  On this top deck you will find the only non-scratch built items on the ship.  Although some of them are heavily modified.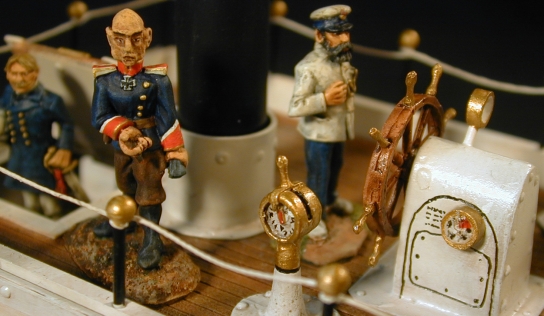 Of course you'll also find my scratch built obligatory " large brass gauge" to!  The ship will be able to have 10 to 16 figures on it and not look too crowded.  I figure that during a rescue attempt I could justify the ship carrying 32 figures a 10 figure Crew, two 10-man squads, and a character or two!