My main gaming buddy Steve Gausche had a Birthday approaching and being a guy with everything I had to figure out a gift he wanted, he needed, and something he couldn't get anywhere else….? Easy! A Byzantine Cataphract! Steve had SAGA Byzantine Warband painted by "Monty" he purchased about a year ago, but it had not come with the very cool fully armored heavy horse cavalry used by the Byzantine Emperor Belasarious! Steve had mentioned several times he might pick up and paint some of these. Knowing Steve I sensed this would not happen soon if ever!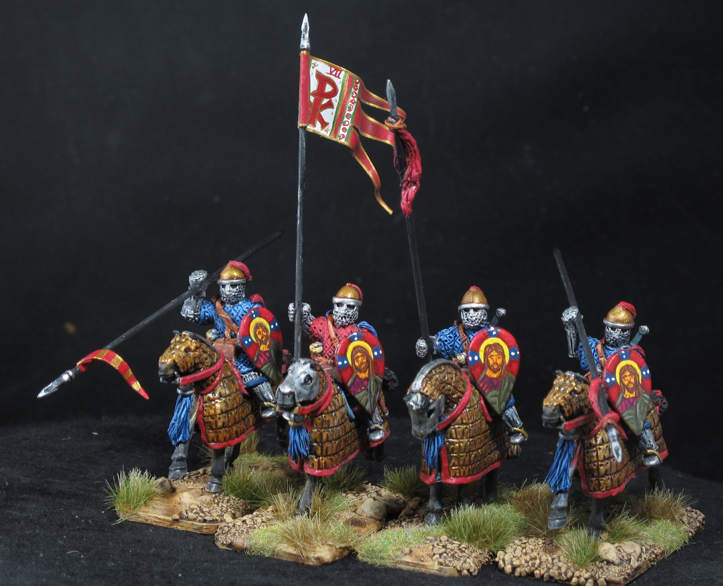 So with a couple of clicks on Gripping Beast website a 4 figure unit of 28mm BZC06 Byzantine Kataphractoi were winging their way across the sea to me and my waiting paintbrushes. Within a week they were sitting on my "workbench" going through the pre-paint process. That's where I trim flash, alter poses, and fix any casting problems a well as make custom changes to the figures. I like to have figures that are unique and a bit better than a just painted of the shelf figure set.
One of the first problems I found in the casting was that the riders did not fit very well on the horses, they fit but if simply glued in place there would be huge apparent gaps between horse and rider. I'm somewhat of a perfectionist in my figure work and known for taking time with details that most of the time only I would notice….oh well that's me!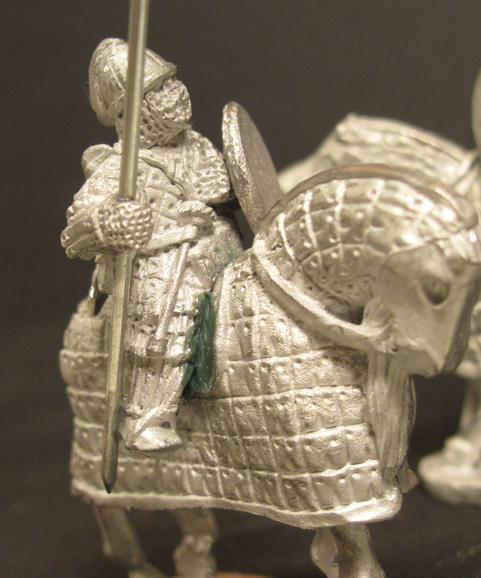 I knew that the gap was way to big for simple filling with glue. Even milliput of other filler would not look right. I decided to use kneadite, blue / yellow, the 2 part sculpting epoxy (used for sculpting figures from scratch) and sculpt the missing space to look like the rest of the figure. This would mostly be some padding and chain armor around the figures legs.
Besides the filling around the legs I would do scratch built steel spears, spear points, copper flags, and a few other additions. I was planning on just using decals for the shields but as usual I was not happy with that and painted the shields by hand.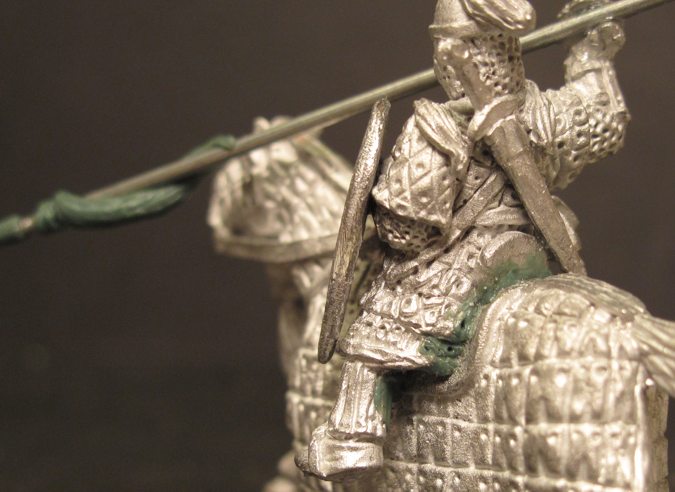 The Byzantines Kataphractoi Cavalry used "Kontos" a very, very long spear (some estimate it at around 21') and I wanted that to be represented on these figures if I could. The only problem with that was that a true scale 21' spear would create problems with storage as well as their use on the battlefield. I chose to use a spear length of about 15 scale feet as it gave a good "long" look and still worked reasonably well for storage in my case.
To the spear I added some flags and pennants. I sculpted some horse tail pennants as well just to give variety. I was not sure about the job at first but later pictures show it came out great, in fact I sometimes forget it was not part of the factory "sculpt".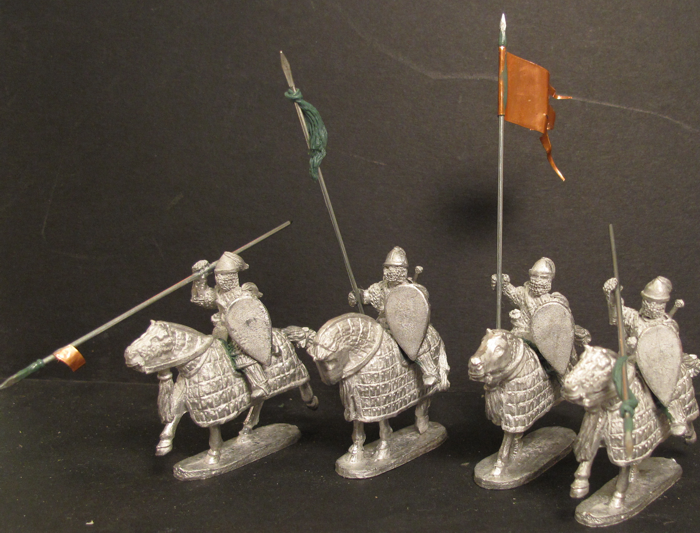 On to the prime coat and as with most of my "metal" mini's I used "Krylon" auto primer flat black. This primer not only works great but is very inexpensive, about $5 a large can.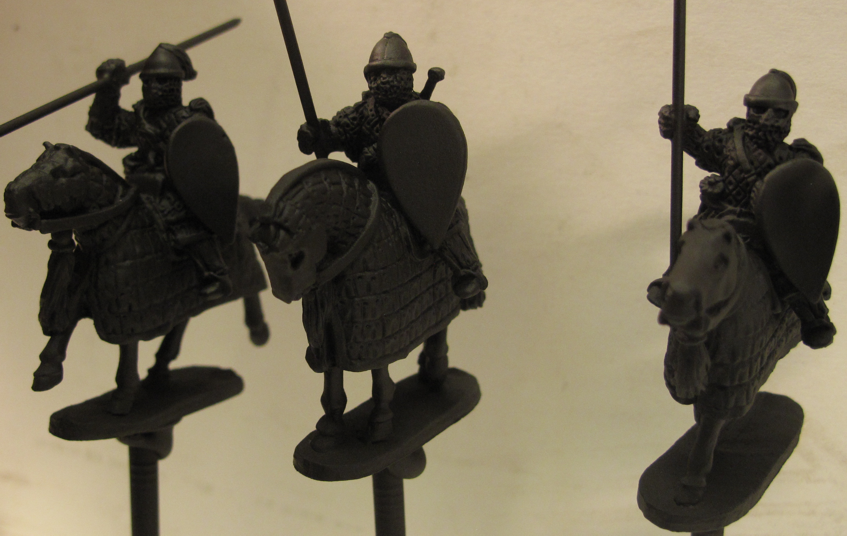 Well after this point I got into my painting mode and didn't take another picture until they were based and painted! I think they came out quite nice. I went back and forth as to a shield design, at one point I was just going to decal them, but in the end I hand painted them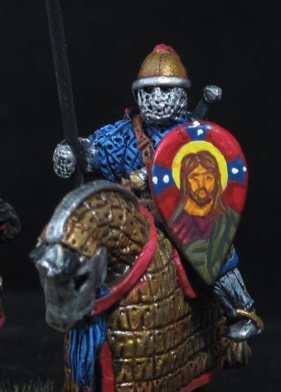 as I like to do. Its a lot more work but I think it then gives you a true hand painted figure. I'm not a real good painter (figures yes but portraits, no!) but I took a stab at painting the "Savior" on their shields as I thought that was very appropriate. This gives them the feel of "being Protected by their Faith!"
The "Kicker" of this who story of "Steve's Birthday Figures" is that Steve was touched, happy, and impressed with the gift of the "Byzantine Cataphract" but let slip that he was thinking of selling the "warband" since he did not like playing them….Lol! So I guess I'll just do a unit of Viking Archers for him as he will like them a whole lot more….. the Byzantine Cav?  Well I may sell them or I just might paint a Byzantine warband for myself!