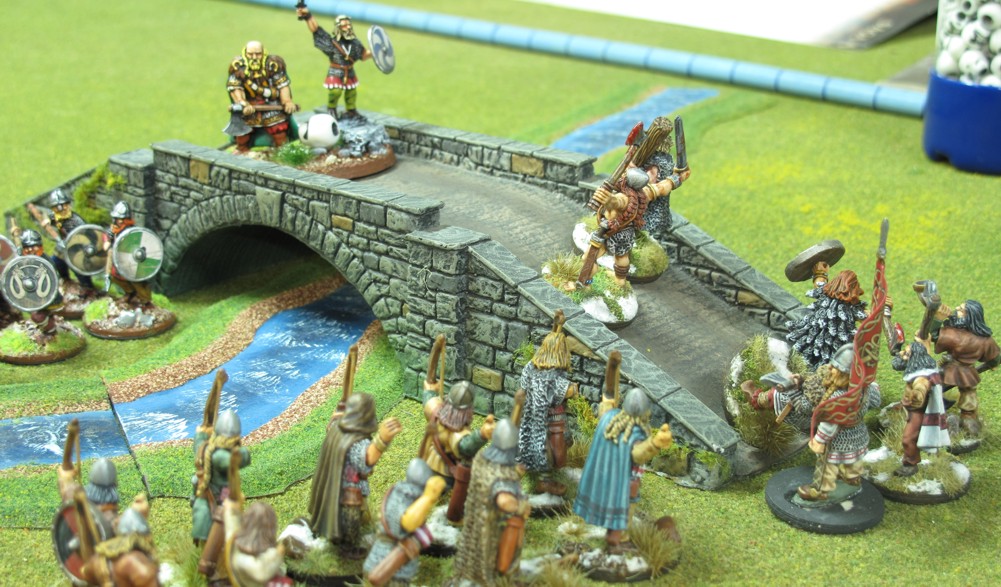 The Los Angeles based miniatures gaming club the "DOG'S of WAR" are putting on a series of gaming sessions at the "Game Empire" located in Pasadena, California. We will be running the popular Dark Ages rules "SAGA" over the course of several months leading up to a tournament finally with prizes. The series of games before the tournament will be to introduce new players to "SAGA" by providing everything they need to play their first games, troops, dice, rules, and a few helpful club members to guide them through the first few games. Those already familiar with the game are also encouraged to bring their favorite warband(s) and come on over to brush up, meet other players, get ready for the Tourney, have fun and make a few new friends!
This first "series" will concentrate on the "Dark Age" side of "SAGA" but we will also be playing and demonstrating the new "Cross and Crescent" rules (basically "SAGA" for the Crusades period) and you are welcome to come and play that as well.
A little bit about the "DOG'S of WAR" gaming group;
The group has been around for 20+ years and has been at the forefront of miniatures gaming (primarily Historical, but STEAM, Sci Fi, and many others are also played) for a least that long. There are many former officers of the Historical miniatures Gaming Society Pacific South West among its members. The group has been prominent at conventions through out the LA area with the group and individuals taking home awards for the lavish miniatures games they host. The group puts FUN and FAIR play at the forefront of all their gaming endeavors. Members all have just as much fun losing while making you a better player as they do winning (sure winning is always good too!)
The Game Empire is a great place, open, spacious, well lit, and full of friendly gamers including the legendary "Dogs of War" this weekend! The Games Empire is located in Pasadena, 1795 E. Colorado Blvd,Pasadena, CA 91106
Start times and weekends will be on the "Game Empires" website http://gameempirepasadena.com/, and also published in the Calendar section of this site. For questions please email me at vonkluge@ca.rr.com Our first official game day will be this Saturday, November 8th, 2014, at 12 noon (we will go as long as there is interest in gaming, 8pm?).